Eneria Support to the Oil & Gas industry in the Sahara
An experts presence throughout the country
Eneria is a division of Bergerat Monnoyeur Algeria dedicated to Power Systems.
We work on all the Algerian territory thanks to our presence in Alger, Constantine, Hassi Messaoud, Oran et Setif.
Bergerat Monnoyeur Algeria it is 450 employees spread all over the territory of which 150 are technicians.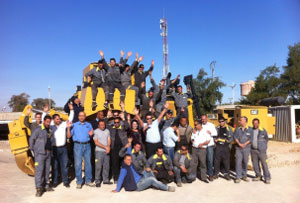 New Multi – bay workshop based in Hassi Messaoud
Technical assistance deployed anywhere in the Sahara
From Hassi R'mel to In Salah, from Tamanrasset to In Amenas, our dedicated team of trained technicians can be deployed anywhere in the Sahara desert to support you.

Customized services to meet the needs of our customers
Courses can be tailored to suit your needs and can be delivered at your premises if required. Immediate availability of spare parts through our warehouse of 600 m2 based in Hassi Messaoud ensures fast technical interventions.