Range of dynamic and static UPS systems
We offer the following range of dynamic and static UPS systems
Uninterruptible Power Supply – Dynamic UPS
Cat® dynamic UPS systems come in the form of a compact cabinet easily installed close to your sensitive equipment.
Ratings from 120 kVA to 1,000 kVA (7,000 kVA in parallel mode)
Flywheel energy storage
Operating principles
Cat® dynamic UPS systems can operate alone or integrated with a generator set. Integrating Cat® UPS systems with generator sets guarantees optimal sizing and synchronisation of both systems.
Caterpillar Critical Power Modules (CPM)
Developed as a containerised solution, Caterpillar's Critical Power Module (CPM) is a high-efficiency module that can provide uninterruptible power supply of up to 1,500 kVA for critical consumers.
A Cat® generator set and battery-free UPS become a seamlessly integrated unit. The Caterpillar CPM is truly a Plug and Play design that meets growing demand for flexible, modular solutions.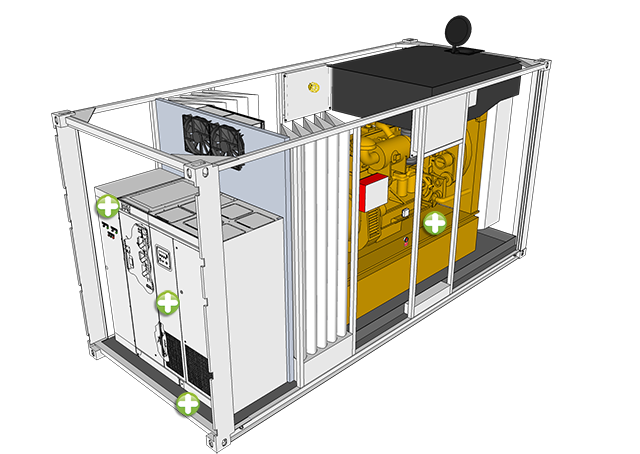 Use your mouse to move around the image and find the legend
Uninterruptible Power Supply – Static UPS
General Electric static UPS
Ratings from 0.35 kVA to 600 kVA.
Battery energy storage
For other ratings or information related to attachments, please contact our teams